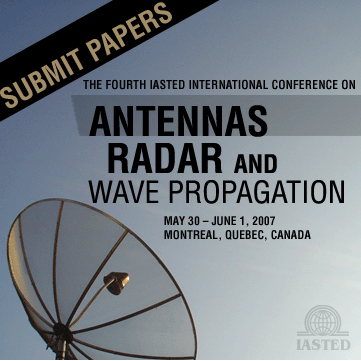 Submit Papers
Please submit your papers as well as proposals for tutorials, special sessions, and panel sessions by
January 15, 2007
. See the Call for Papers
here
.

Date
ARP 2007 will take place from May 30 – June 1, 2007.


Location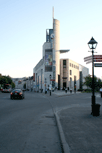 Montreal, Quebec, Canada, is the world's second largest French speaking city. Home to over 2 million people, this dynamic and exciting metropolis has quickly gained a reputation as one of the most desirable places to live, work, and play in the entire world.
Delta Montreal
is conveniently situated in downtown Montreal, close to McGill University.
Technical Co-Sponsors




Antennas, Radar, and Wave Propagation (ARP 2007)
ARP 2007 will be a major forum for international researchers and professionals to present their latest research, results, and ideas in all areas of antennas, radar, and wave propagation. ARP 2007 aims to strengthen relations between industry, research laboratories, and universities.

ARP 2007 is sponsored by the International Association of Science and Technology for Development (IASTED).


Conference Chair

Prof. Jianping Yao
is Professor and Director of the Microwave Photonics Research Laboratory at the University of Ottawa, Canada. Prof. Yao's research interests include photonic processing of microwave signals, radio over fiber, UWB over fiber, and optically controlled phased array antenna.
Special Sessions

"Radio over Fiber Technologies and Applications"
is organized by
Stefano Selleri
, Associate Professor at the Information Engineering Department of the University of Parma, Italy, where he teaches guided propagation, microwaves, electromagnetic fields, and photonic components courses for the curricula in Electronics and Telecommunications Engineering.
"Advances in the Transmission Line Modelling Method"
is organized by
Dr. Ana Vukovic
and
Prof. Phillip Sewell
.
Ana Vucovic
is a professor at the School of Electrical and Electronic Engineering at the University of Nottingham, U.K. She has developed fast and flexible models for complex devices that utilise nonlinear and dispersive materials, ranging from microwaves, photonics, and nanophotonics devices.
Phillip Sewell
is a professor at the School of Electrical and Electronic Engineering, University of Nottingham, Nottingham, U.K. His research interests involve analytical and numerical modelling of electromagnetic problems, with application to optoelectronics, microwaves, and electrical machines.
See the ARP 2007 International Program Committee
here
.
Topics
Topics covered by ARP 2007 include, but are not limited to:
Antennas and Antenna Arrays

Micro Strip Antennas
MEMS Components

Radar

SAR / ISAR
Multiple Hypothesis Tracking

Wave Propagation

Satellite Propagation
Scattering, Diffraction, and Diversity

Materials and Structures

Microwave Materials
Band-Gap Structures

Microwave Metrology

Voltage and Current
Scattering Parameters

Computational Electromagnetics

Channel Modelling
Method of Moments
and many more...
© IASTED 2006 Newsletter template by Free Templates Online