The 2nd IASTED African Conference on


Health Informatics


AfricaHI 2012
Science and Technology - A Platform for Sustainable Development
September 3 – 5, 2012
Gaborone, Botswana
SPECIAL PRESENTATION
SMART PHONES: The Golden Opportunity to Leapfrog e-Health in LMICs
Duration
1 hour
Abstract
Mobile phones have been demonstrated as extremely useful tools in the collection and transmission of health data in Low-and Middle-Income Countries (LMICs). However, to date, the vast majority of these systems are based on the Short Messaging Service (SMS) platforms which by definition transmit short alphanumeric data strings. We propose to demonstrate the use of a smart phone application within the context of an appropriate Open Source Enterprise Framework. The MOH app system was developed for the Ministry of Health of Uganda based upon that Ministry's Ante-Natal Care standard and is deployed on the e-numer8 Data Services Cloud.
Objectives
Concept
:
The demonstration highlights various use-cases of this smart phone application; the collection of individualized data, potential use of such individualized data for telemedicine, the filtering of large datasets, and the overall usage of such data as a management resource. In the context of mHealth, this breadth of use-cases is not possible without the type of enhanced computing capability afforded by smart phones. Also demonstrated is the use of a centrally-controlled encoding system to identify mothers on the Ante-natal care program. The versatile QR (Quick Response) Coding System readable by smart phones offers a dynamic and accurate segregation method.
The MOH App system also has a web end that mirrors the mobile front end functions. This flexibility illustrates that within an appropriate framework, a hybrid of conventional computing and mobile applications can co-exist. Additionally, the MOH app system powers a centrally-controlled SMS Scheduling System showing that the use of smart phone-based systems is not restricted to sophisticated HTTP/S services.
Conclusion
:
The rapid proliferation of cheap smart phones, their ease of connectivity to the internet coupled with the development of suitable software applications presents health managers in LMICs the "Leapfrog Technologies" to transmit text as well as richer multimedia data while advancing significant computing power to the forefront of data management. We argue that these technologies are the best fit-for-purpose and most cost-effective innovations for eHealth in the setting of LMICs today.
Biography of the Organizer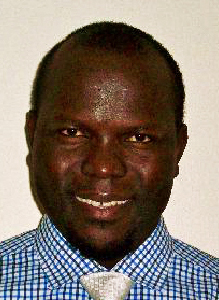 Dr Dennis Otto-Odokonyero is a Practicing Clinician and Medical Informatics Developer. He qualified from Makerere University (Uganda) with a Bachelor of Medicine and Bachelor of Surgery (MB, ChB) degree in 2003. He went on to acquire Membership to the College of Surgeons of East, Central and Southern Africa, MCS (ECSA) in 2006. He is a Certified Independent Medical Examiner (CIME) of the American Medical Association. Dr Otto-Odokonyero has designed websites and written web applications for over 15 years and developed his Medical Career contemporaneously.
He presently works at the Debswana Jwaneng Mine Hospital where his main clinical interest is Emergency Medicine and Trauma Surgery. His focus in Management is the optimisation of operational efficiencies and cost containment.
His Medical Informatics aspiration is for Africans to build "World Class, Third World Solutions".