The Fourth IASTED International Conference on


Antennas, Radar and Wave Propagation


ARP 2007
May 30 – June 1, 2007
Montreal, Quebec, Canada
KEYNOTE SPEAKER
Six-Port Interferometer Concept and Implementation in Digital RF and Optical Communications/Radar
Abstract
Objectives
Timeline
Tutorial Materials
Target Audience
Background Knowledge Expected of the Participants
Biography of the Keynote Speaker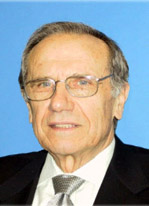 is professor Emeritus of Electrical Engineering at École Polytechnique (University of Montreal), and founding director of "Centre de recherche Poly-Grames" (CRP)/ "Microwave Space Electronics Research Center" established to provide electrical engineering graduate students with advanced research facilities in microwave and millimeter wave engineering. Renato G. Bosisio
Renato G. Bosisio is member of the Order of Canada, Life Fellow of IEEE, member of order of Professional Engineers of Quebec, member of Phi Kappa Phi and Sigma Xi learned societies, McNaughton (2004) medalist, and member of Canadian Engineering Academy.
Renato G. Bosisio is the author of numerous patents and author or co-author of over 300 journal papers and refereed international conferences. Prof. Bosisio has made outstanding contributions in developing microwave and millimeter wave engineering on a world-wide scale as underlined by Dr J.F. Luy, an internationally known speaker at the September 2002 European Microwave Conference held in Milan. Dr. J.F. Luy of DaimlerChrysler Research, Ulm, Germany highlighted Prof. Bosisio's invention of a digital six-port microwave millimeter wave communication receiver as an excellent platform to develop the software defined radio (SDR) of the future. Other international core research centers (e.g. Sony of Japan) have started their own research programs on six-port receiver platforms.