The 10th IASTED International Conference on


Biomedical Engineering


BioMed 2013
February 13 – 15, 2013
Innsbruck, Austria
SPECIAL SESSION
Cardiac Regeneration Approaches
Abstract
Repairing or replacing dead cardiac tissue with cell and gene therapies are strategies involving multidisciplinary technologies. Novels therapeutic options and their own specific challenges as well as the importance of stem cell, biomaterials and their interaction will be presented in this session.
Target Audience
All researchers, scientists and practitioners working in the field of cardiac regeneration.
Authors submitting papers to this special session must follow the
initial paper formatting requirements
. All papers must be submitted by
October 29, 2012
.
Biography of the Organizer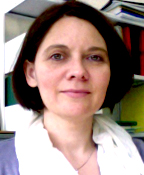 Marie-Noelle Giraud is the principal investigator at the Chair of Cardiology, Department of Medicine at the University of Fribourg. She holds a PhD in Biology from the University of Auvergne in France and has over 15 years of research experience in Applying Biology gained at the University of Texas Medical School, Houston (US), at the University Hospital of Clermont-Ferrand in France and at the Cardiovascular Department of Bern, Switzerland. She received her privatedozent in experimental cardiology in 2010 and received a variety of awards, including the Young Investigator Award from European Association for Cardio-Thoracic Surgery.
Submissions
Please email all submissions to marie-noelle.giraud@unifr.ch by October 29, 2012. Authors MUST include their full contact information in the email.
Important Deadlines
| | | |
| --- | --- | --- |
| Latest Submissions Due | | October 29, 2012 |
| Notification of Acceptance Starting | | November 15, 2012 |
| Final Manuscripts Due | | December 3, 2012 |
| Registration Deadline | | December 6, 2012 |
Papers will be reviewed on an ongoing basis. Authors who submit early will receive their feedback and notification early.