The 20th IASTED International Conference on


Parallel and Distributed Computing and Systems


PDCS 2008
November 16 – 18, 2008
Orlando, Florida, USA
TUTORIAL SESSION
Overview of Mobile IP and Computing, and WiMAX Technology
Abstract
Objectives
Timeline
Tutorial Materials
Target Audience
Background Knowledge Expected of the Participants
Qualifications of the Instructor(s)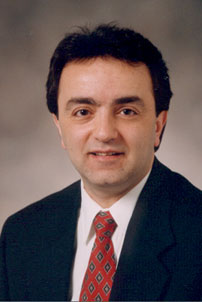 Nader F. Mir received a B.Sc. degree with honors in electrical and computer engineering in 1985 and MSc and PhD degrees, both in electrical engineering, from Washington University in St. Louis, in 1990 and 1994, respectively.
He is currently a Professor and Department Associate Chairman of Electrical Engineering at San Jose State University, California. He is also the Director of the MSE Program in Optical Sensors Networks for Lockheed Martin Space Systems.
His research interests are analysis of computer communication networks, design and analysis of switching systems, network design for wireless ad hoc, internet and sensor systems, information systems and applications of digital integrated circuits in computer communications.
References