The IASTED International Conference on


Engineering and Applied Science


EAS 2012
Engineering Applications for the 21st Century
December 27 – 29, 2012
Colombo, Sri Lanka
LOCAL ARRANGEMENTS CHAIR
Biography of the Local Arrangements Chair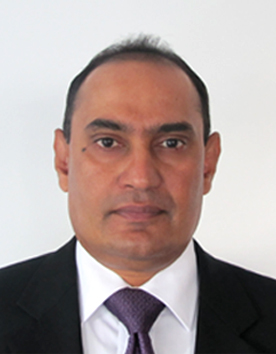 Professor Lalith Gamage is an Electronic and Telecommunication Engineering graduate from the University of Moratuwa. He obtained his M.Sc. from De Montfort University, Leicester, UK and his PhD from the University of British Columbia, Vancouver, Canada. His research areas include Computer Vision, Computational Intelligence and Robotics. Professor Gamage has published numerous research papers and has won a prestigious Japanese Space Agency research award.
Joining University of Moratuwa as a lecturer Professor Gamage went on to serve as a Senior Lecturer and the Director of the Computing Services Center of the Moratuwa University. He has also served as a Council Member of the University of Moratuwa.
In 1999 he played a prominent role in establishing Sri Lanka Institute of Information Technology (SLIIT) becoming its Managing Director and CEO. In 2000 he won "The Outstanding Young Person of the year" (TOYP) award for Academic Leadership.
In 2003 he was made a Professor of SLIIT. Under his leadership SLIIT has become the largest technology institute in Sri Lanka and is today a multidisciplinary institute of which he is President and Chief Executive Officer.
Currently he is an Adjunct Professor at the Department of Mechanical Engineering, University of British Columbia and is attached to the Industrial Automation Group and is also an Adjunct Professor of the Curtin University. He also serves as the current Chairman of Arthur C. Clarke Institute for Modern Technologies (ACCIMT) and Lanka Software Foundation (LSF).
Apart from his academic achievements he has served the IT industry and the Government of Sri Lanka in many capacities. These include the Chairman of the ICT Cluster of the USAID sponsored competitiveness initiative, the Executive Director of Trade Information Network Sri Lanka Export Development Board, Chairman of the IT Task Force, Ministry of Enterprise Development, Industry Policy and Investment Promotion, Chairman of SLCERT (Computer Emergency Response Team) and as a member of apex level ICT development committees of subject Ministries.