The Second IASTED International Conference on


Power and Energy Systems and Applications


~PESA 2012~
November 12 – 14, 2012
Las Vegas, USA
TUTORIAL CHAIR
Suppression of Transient Response Spikes in Diagnostic and Prognostic Datasets
Abstract
Many diagnostic and prognostic datasets suffer from the extreme effects of transient response spike since it introduces an abrupt change in the values reported in the dataset. This is especially true for electrical power system data where the switching effect is a major contributor to the transient response spikes. Most transient response spikes are harmful to the analysis of data in that they throw off real-time detection of abnormal conditions, and classification of faults. Since the transient response is embedded within the data, removal of the unwanted signals from the data is not always easy and may result in losing the integrity of the information carried by the data. The proposed algorithm in this paper is a multi-resolution filtering approach that is capable of suppressing transient response spikes with minimal damage to neighboring data. Presented here is the theoretical background with some examples from a realistic testbed.
Qualifications of the Instructor(s)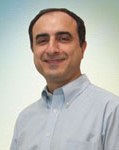 Dr. Ehsan Sheybani obtained his PhD in Electrical Engineering from the University of Southern Florida in the United States. He is currently an Assistant professor of Electrical Engineering at the University of Southern Mississippi, USA. His research interests include telecommunications, networking, Digital Signal Processing, and Distance Learning. Dr. Sheybani is also a reviewer for several journals and professional organizations in his field.