The 32nd IASTED International Conference on


Modelling, Identification and Control


~MIC 2013~
February 11 – 13, 2013
Innsbruck, Austria
CONFERENCE CHAIR
Biography of the Conference Chair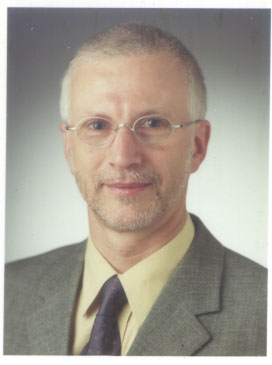 Wolfgang Borutzky is a Professor for Modelling and Simulation of Engineering Systems at Bonn-Rhein-Sieg University of Applied Sciences, Germany. He received his Diploma Degree in Mathematics and his Doctoral Degree in Mechanical Engineering, both from the Technical University of Braunschweig, Germany.
He was a visiting professor at various universities, most recently at Universidad de Rosario, Argentina (2011). Since 2008 he is also an Associate Professor of Electrical Engineering and Information Technology at the University of Dubrovnik, Croatia.
His research interests include modelling and simulation methodologies for multidisciplinary systems, in particular Bond Graph-based as well as object oriented modelling; modelling, simulation, control and fault diagnosis of mechatronic systems, and modelling languages.
Dr. Borutzky has published extensively in major international conferences on Modelling and Simulation and in refereed scientific journals. He is the author of the 2010 Springer monograph titled Bond Graph Methodology -- Development and Analysis of Multidisciplinary Dynamic System Models. He is also editor and co-author of a 2011 Springer compilation text on Bond Graph Modelling of Engineering Systems with contributions from experts in various fields from all over the world.
Since 1990 he has served in many international scientific conferences on Modelling and Simulation in various capacities. In 2005 he was Assistant General Chair of the European Conference on Modelling and Simulation (EMCS) in Riga, Latvia and in 2006 General Chair of the ECMS 2006 in Sankt Augustin, Germany. From 2005 to 2007 he served on the Board of the European Council for Modelling and Simulation. In 2009, he was an invited tutorial speaker of the IASTED Conference on Modelling, Simulation and Identification (MSI 2009) in Beijing, China, in 2010 he was one of the invited keynote speakers to the Conference on Power Control and Optimisation (PCO 2010) in Kuching, Malaysia and in 2011 he was an invited speaker of a workshop on bond graph modelling in Pune, India.. He has also served as an invited external examiner of a number of Ph.D. theses in France and in India. Moreover, he has given invited lectures and short courses in industry on bond graph modelling.
Dr. Borutzky is a member of the IASTED Technical Committee on Modelling and Simulation and a senior member of the Society for Modelling and Simulation International (SCSI). During the 2004-2006 biennium, he served on the SCS Board of Directors. He has also been active as a member of the Editorial Board of some modelling and simulation related scientific journals. Currently, he is again an Associate Editor of the journal Simulation: Transactions of the Society for Modelling and Simulation International.