The Third IASTED African Conference on


Water Resource Management


AfricaWRM 2010
Science and Technology Applications for Health and Sustainable Development
September 6 – 8, 2010
Gaborone, Botswana
CONFERENCE CHAIR
Biography of the Conference Chair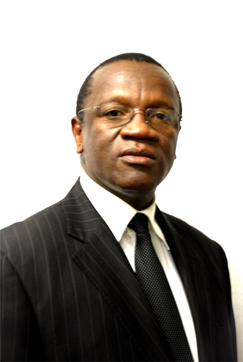 is an Environmental Scientist who completed his BSc (Biology and Environmental Science) training at the University of Botswana in 1987. He also studied in the United Kingdom for his MSc (Soil Science) and PhD (Soil Science and GIS). In addition, he completed a number of short courses on Science management including one at Harvard University. Professor Otlogetswe Totolo
His main area of research is in environmental pollution (soil pollution) where he has published articles in internationally reputed journals like Physics and Chemistry of the Earth, International Journal of Environmental Geology, Botswana Journal of Technology and International Journal of Environment and Applied Science. Professor Totolo has reviewed Journal articles for a number of international journals including those mentioned above.
Together with other Scientists from the University of Botswana like Professor Mpuchane (former Dean of Science), Professor Totolo's team raised about P3 million for research on pollution in urban and industrial areas. The research team published many journal articles from their work and also funded young scientists to read for MSc and MPhil/PhD. Professor Totolo has worked collaboratively with Prof Ekosse on the effects of mining on the environment and their study was based around Selebi-Phikwe. They have published more than 8 refereed articles in international journals including Minerals Engineering, International Journal of Environmental Studies, Global Journal of Pure and Applied Sciences and the Journal of Applied Sciences and Environmental Management. The journal articles shed light into the nature and migration of heavy metals affecting the Selebi-Phikwe environment and on strategies to lessen some of their impacts.
Professor Totolo is a member of the Botswana Global Change Committee, Director of RIPCo (B), Founder Member of Somarelang Tikologo, Chairman of the Board-Environmental Heritage Foundation, Former Chair of Westwood International School Governing Council.
At the University of Botswana, he is an Associate Professor in Environmental Science and former Dean of Science. During his tenure as Dean of Science, he acted as Deputy Vice-Chancellor (Academic Affairs) on several occasions. He also served in the key UB strategic committees: University Council, Senate, Staff Appointments and Promotions Committee, Staff Appeals Committee, Student Disciplinary Committee, University Research Committee. Moreover, Prof Totolo participated in the University and Faculty of Science Strategic planning processes and attended a semester course on Negotiation strategies in the Faculty of Engineering.