The 6th IASTED African Conference on


Modelling and Simulation


AfricaMS 2016
September 5 – 7, 2016
Gaborone, Botswana
GUEST SPEAKER
Congestion Control in WDM Networks
Abstract
Due to huge transmission of data through optical fibres, congestion occurred regularly and it became a big bottleneck to the flow of data in any process. Many strategies are there to avoid congestion but those strategies usually add huge cost associated with quality assurance. These strategies are applicable to the area which is rich in infrastructure and resources, but these strategies are very difficult to implement and acceptable in areas where resources are very less (for example: poor countries). In this paper we focused on developing a better solution to this problem as to solve congestion issues and to deduct the cost in term of implementation by reducing the devices used in network setups. We proposed a survivability strategic algorithm with congestion control in WDM optical network which improved congestion hit network and will provide us with good cost cutting as it can be implemented to developing countries due to low costing factor.
Biography of the Guest Speaker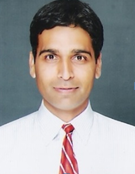 Was born in Joginder Nagar, Himachal Pradesh, India, He obtained his bachelor's degree in Electronics & Communication Engineering from Govt. Engineering College, Amravati University, Maharashtra, India and Master's degree in Electronics and Telecommunication Engineering & Masters degree in management in Human resource management. He has done his Masters Diploma in Software Technology from IEC, Delhi. He has obtained PhD .from Thapar Institute of Engineering and Technology, (TU) Department Of ECE, Patiala, Punjab, INDIA, in the field of Optical networks/ coding and Wireless networks.
He has worked as Assist Engineer (Electronics) in Vardhman, Spinning Mills, Group 4 Securitas Systems (P) Ltd & As Networks Engineer for Tata Telesevices Limited, New Delhi. He then joined Rayat & Bahra College of Engineering & Bio-Tech, Mohali, Kharar as Associate Professor Electronics and Communication department till March 3, 2010. Later joined Chandigarh University as Head, ECE and Dean Students Welfare Officer. Later served Baddi University and Shiva Group of Institutions, Bilaspur, and Himachal Pradesh as Director / Principal of Engineering. Presently, He is working as Professor & Dean in Electronics and Communication Engineering department and Dean of International Affairs with Rayat-Bahra University, Mohali, Punjab. His interests are fiber optics communication, Wireless Sensor Networks, wavelength division multiplexing & OCDMA. He has 65 Research papers in international/national conferences. Have more than 15 Thomson Reuter SCI publications to his credit. He is the life member of IEEE, ISTE and reviewer of many renowned journals.